December 5-6, 2013 through the support of UN Joint Advocacy Project on HIV/AIDS (UNAIDS, UNDP, UNFPA and UNICEF), WHO, ILO and other UN agencies, "Know your status" awareness raising event under the UN cares initiative was conducted.
During these 2 days, any UN staff member had an opportunity to have VCT. VCT services were provided by the Republican AIDS Center specialist. This awareness raising event was designed to encourage UN personnel and their families to learn more about HIV and AIDS and receive access to a comprehensive range of benefits known as information and education, voluntary counseling and testing, access to male and female condoms, etc.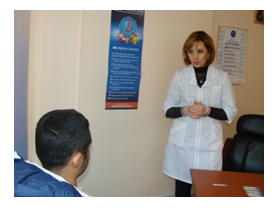 One of UN staff who passed the test has mentioned that- ""There is no way of knowing whether or not you have HIV without taking a test. I absolutely support "Know your status" initiative because it will give an opportunity to personnel to get tested. I am very glad that during this initiative I had an opportunity to find more about HIV/AIDS, and 10 minimum UN Cares standards, also IEC materials were very informative and useful".
During this initiative around 60 UN staff and their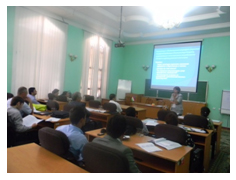 families had an opportunity to get know their status. "Taking an HIV test can be a serious challenge, but it's very important to go through it. Knowing your HIV status will help you to make the right decisions for your life", mentioned another employee who passed the test.
Information: The UN Cares programme has been developed through interagency consultation between UNAIDS Cosponsors and other agencies. It is a single harmonized programme available to UN system personnel and their families in all entities and all duty stations, designed to help them to access their rights defined in the 1991 United Nations HIV/AIDS Personnel Policy and in the ILO Code of Practice on HIV/AIDS and the World of Work and recognize their individual responsibilities related to HIV. The UN Cares in Tajikistan was launched in 2009 and numerous activities have been conducted and information on UN Cares 10 Minimum Standards shared among UN staff which are: 1. Information about UN Policies and Benefits relating to HIV; 2. Information about Preventing Transmission of HIV and accessing HIV related services; 3. Learning and Training Activities on Stigma and Discrimination; 4. Access to Male and Female Condoms; 5. Voluntary Counseling and Testing; 6. Insurance covering HIV-related expenses; 7. Confidential Handling of Personal Information; 8. First Aid Using Universal Precautions; 9. Rapid Access to PEP starter kits; and 10. Managerial Commitment.
For more information, contact: Bakhtiyor Mirzoev, Advocacy and Communication Officer, UN Joint Advocacy Project on HIV in Tajikistan at: bakhtiyor.mirzoev@undp.org